Introducción
En la vibrante ciudad de Miami, encontrar un auto asequible que se ajuste a tus necesidades y presupuesto puede parecer una tarea desalentadora. Sin embargo, en Machado Auto Sales, convertimos ese desafío en una experiencia gratificante. Si estás buscando autos baratos en Miami, has llegado al lugar correcto.
Encontrando las Mejores Ofertas en Miami
Miami es conocida por su estilo de vida dinámico y diverso parque automovilístico. En Machado Auto Sales, ofrecemos una amplia gama de vehículos que no solo son accesibles sino también confiables. Aquí hay algunos consejos para encontrar las mejores ofertas:
Define Tus Necesidades: Antes de empezar, pregúntate qué necesitas realmente en un auto. ¿Espacio para la familia, eficiencia en combustible, o algo que sea fácil de estacionar en la ciudad?
Investiga: Echa un vistazo a nuestro sitio web, machadoauto.com, donde constantemente actualizamos nuestro inventario con opciones atractivas y económicas.
Considera la Financiación: Ofrecemos opciones de financiamiento flexibles para ajustarnos a tu presupuesto.
Testimonios de Clientes Satisfechos
Nada habla más alto que la experiencia de clientes reales. Juan Pérez, un cliente reciente, compartió: "Encontré el carro perfecto para mi familia y a un precio increíble. El equipo de Machado Auto Sales me ayudó en cada paso del proceso."
Conclusión
No tienes que sacrificar calidad por precio. En Machado Auto Sales, nos enorgullecemos de ofrecer autos baratos en Miami sin comprometer la confiabilidad. Visítanos hoy mismo para encontrar tu próximo vehículo a un precio inmejorable.
Llamado a la Acción
¿Listo para encontrar el auto de tus sueños? Visita nuestro concesionario o explora nuestro inventario en línea en machadoauto.com. ¡Tu próximo auto te espera!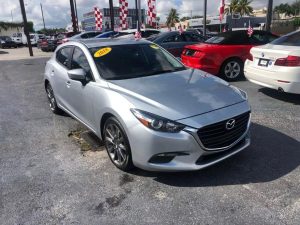 Welcome to Machado Auto Sales, your trusted source for high-quality vehicles in Miami. Today, we're excited to spotlight one of our top picks for Miami drivers – the 2018 Mazda3. This sleek sedan, with its stunning silver exterior and luxurious black interior, isn't just a car; it's a statement of style and efficiency on the vibrant streets of Miami.
Exquisite Design: The 2018 Mazda Mazda3 stands out with its silver exterior, offering a sophisticated and timeless look. This color not only looks great under the Miami sun but also does an excellent job of hiding dust and minor imperfections, keeping your car looking pristine. The black interior adds a touch of elegance and is crafted from high-quality materials, ensuring comfort and durability.
Performance and Handling: Designed with driving pleasure in mind, the Mazda3 offers a responsive and agile ride, perfect for navigating both the bustling city streets and open highways around Miami. Its fuel efficiency is a boon for both city commuters and weekend road trippers, making it an economical choice without sacrificing performance.
Advanced Features: This model comes equipped with an array of features designed for convenience and safety. From advanced infotainment systems to state-of-the-art safety technologies, the 2018 Mazda3 ensures that your driving experience is not only enjoyable but also secure.
Ideal for Miami Lifestyle: Whether you're commuting to work, exploring the scenic routes along the coast, or heading out for a night in the city, the Mazda3 is the perfect companion. Its size makes it easy to maneuver and park in tight spots, a must-have feature in Miami's lively neighborhoods.
Conclusion: At Machado Auto Sales, located at 843 NW 27th Ave, Miami, FL 33125, we believe the 2018 Mazda Mazda3 is a perfect match for the Miami lifestyle. Its blend of style, efficiency, and performance makes it an ideal choice for anyone looking to upgrade their driving experience. Visit us to test drive this beauty and explore our wide range of quality vehicles tailored to fit your needs and preferences.